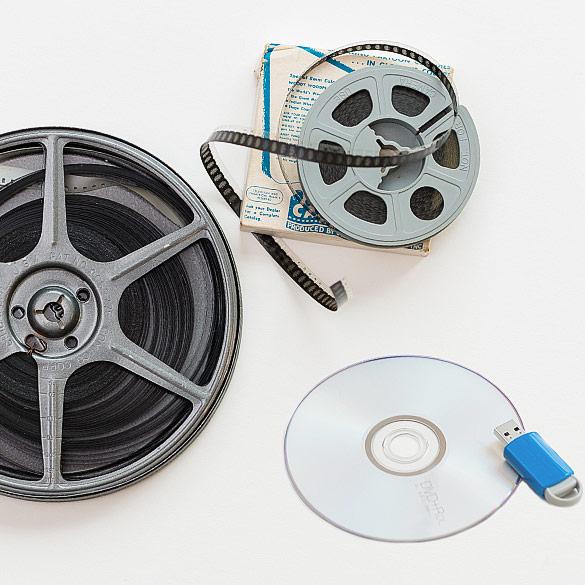 Can't find anywhere to have your old reel film converted to a current DVD format? We can do it! We offer conversions from Regular 8, Super 8 and 16mm Reel Film to DVD. Film Reel to DVD transfers are edited for unexposed sections and come with Finished Packaging. Transfer your old reel film while you still can!
You can choose to have each Film Reel transferred to a DVD or have multiple Film Reels combined to one DVD. Transfers are limited to up to 1600 feet of footage per DVD. Once completed, your DVD can be played in any standard DVD Player or Computer (MAC or PC).
Because each Film Reel is different and can accommodate anywhere from 20 feet to 800 feet, pricing may vary and can only be determined after the transfer has been complete. Based on the size of your reel and average footage length, we may be able to provide you with a cost estimate at time of drop off.
1600 Feet Maximum per DVD
| Transfer Type | Setup Fee | Per Foot Rate |
| --- | --- | --- |
| Film Reel to DVD | $49.95 | $0.30 |
| Transfer Type | Setup Fee | Per Foot Rate |
| --- | --- | --- |
| Film Reel to DVD | $49.95 | $0.30 |
Orders received by 3:00 p.m. (CST) will be completed by 12:00 noon (CST), Monday thru Friday, within the listed number of processing days required. No order will exceed 5 days unless indicated, or you are specifically notified by the lab. An email notification will be sent once the order has been completed for your convenience. NOTE: Shipping Time not included in Turnaround Time.
---