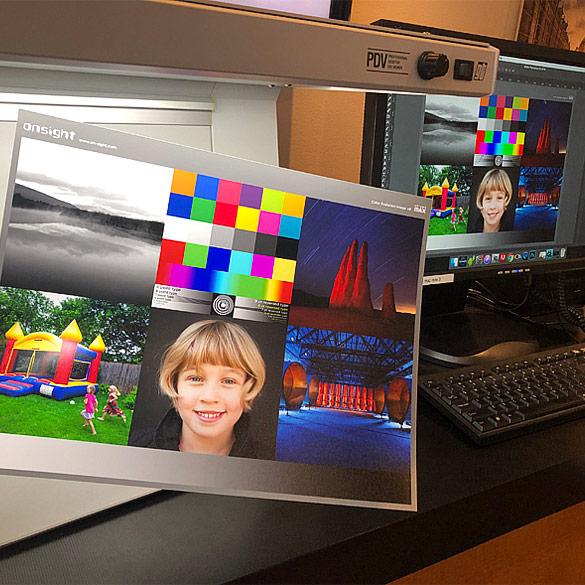 At Digital Pro Lab, we understand the importance of Color Management. All of the imaging systems at Digital Pro Lab are calibrated to the industry standard of color using custom ICC Profiles. If you are considering our Monitor Match Print Workflow, it is required that you submit your order from a properly calibrated monitor in order to ensure a monitor-to-print match.
What does calibrate mean, and why is it important? Your computer and it's monitor are instruments. And it is important for those instruments to be in tune. At Digital Pro Lab, all imaging systems use custom profiles and are calibrated to the industry standard of color. It is important that your computer, if you are editing your own images, be calibrated to the same industry standard of color.
What happens if my computer is not calibrated? If you are editing your images and your computer is not calibrated, you are not accurately perceiving your images. For example, you may be darkening your image when you do not need to. This will cause your prints to be too dark when you receive them. Calibration is the key to becoming confident that you will receive an accurate print every time!
At Digital Pro Lab, we offer Monitor Calibration Services to individuals who would prefer to do their own color corrections and image editing, giving you the control that you want over the look of your images. Schedule a time to bring your computer in for calibration today!
If I'm having my monitor calibrated, what do I need to bring in?
You will need to bring in your monitor, computer, 2 power cables and monitor-to-computer connection cord (VGA, DVI, Mini DVI, etc.), as well as your operating system's username and password.
If you have a Photography Studio, we offer In-Studio Monitor Calibrations to qualified customers. To have one of our color management specialists go out to your studio and perform an In-Studio Monitor Calibration, your studio must have a store-front and be located in San Antonio, inside Loop 1604.
| Service | Price |
| --- | --- |
| Monitor Calibration | $99.95 |
| Monitor Re-Calibration | $49.95 |
| In-Studio Monitor Calibration (Existing Customers Only) | FREE |
Orders received by 3:00 p.m. (CST) will be completed by 12:00 noon (CST), Monday thru Friday, within the listed number of processing days required. No order will exceed 5 days unless indicated, or you are specifically notified by the lab. An email notification will be sent once the order has been completed for your convenience. NOTE: Shipping Time not included in Turnaround Time.
---