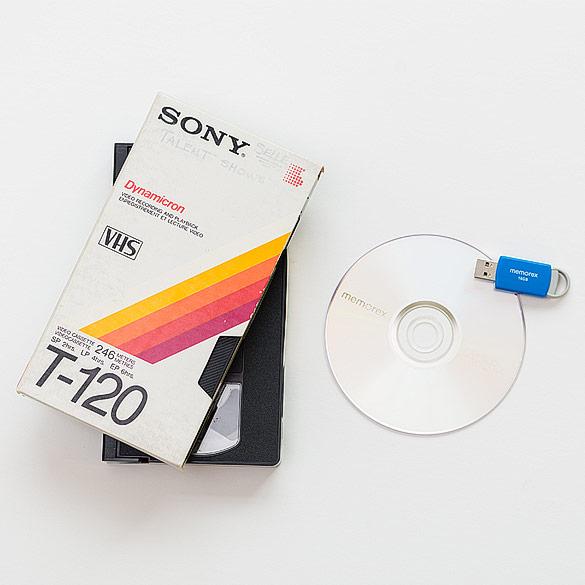 Transfer all your old home movies to DVD so you can enjoy them with the whole family! We convert and transfer lots of older formats to DVD or USB, including VHS Tapes, VHS-C, Mini DV (DVC), Hi8 Tape, and Digital 8 (DV 8). We can also transfer video from your Video Camera Hard Drive, Digital Camera and even your cell phone!
Choose between two DVD transfer options: Deluxe and Basic. See pricing and feature details in our pricing table below.
For all Video to DVD Transfers, we are able to transfer 2 hours max per DVD. Any additional footage will be put onto a separate DVD and charged as a separate transfer. We can also combine footage onto one DVD for a reduced rate.
Included with our Deluxe Transfer, we will delete out any static or blank video sections; however, custom video editing will be charged on a per hour basis if requested.
Don't need a DVD? We offer MP4 or .MOV file conversions to USB also. See pricing and options below.
No copy-written material will be transferred. This includes professional Motion Pictures and home- recorded television shows or movies as this violates Copyright Law.
| | DELUXE | BASIC |
| --- | --- | --- |
| Transfer Features | $69.95 | $45.95 |
| Transfer up to 2 hrs of footage | ✔ | ✔ |
| DVD & Blu-Ray player compatible | ✔ | ✔ |
| Customized Case, DVD + Menu | ✔ | ✖ |
| Edit out static footage | ✔ | ✖ |
| Scene Selection Menu | ✔ | ✖ |
| Additional Tape(s) To Primary Transfer | +$19.95* | +$19.95* |
| Additional Packaged DVD | +$19.95* | +$19.95* |
*Priced per additional tape transferred
Orders received by 3:00 p.m. (CST) will be completed by 12:00 noon (CST), Monday thru Friday, within the listed number of processing days required. No order will exceed 5 days unless indicated, or you are specifically notified by the lab. An email notification will be sent once the order has been completed for your convenience. NOTE: Shipping Time not included in Turnaround Time.
---